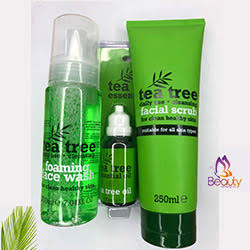 Buy Tea Tree Products In Ghana
What is tea tree oil?
Tea tree oil is extracted from the leaves of the tea tree plant (Melaleuca alternifolia); it is fully organic with no artificial added products.
What are the benefits of tea tree oil?
 The oil has the benefits of antibacterial, anti-inflammatory, antiviral, and antifungal properties. A person can treat acne, athlete's foot, contact dermatitis or head lice using tea tree oil.
Can I buy Tea Tree Products In Ghana?
You can buy authentic tea tree oil products from beautyexpressgh.com at the lowest price during the promotion months. We run these promotions more than 10 times a year to our faithful customers.
Comments
(16)
Leave a comment